I've had an iPad for about three weeks now (thanks to two Kevins for bringing back the iPad and case).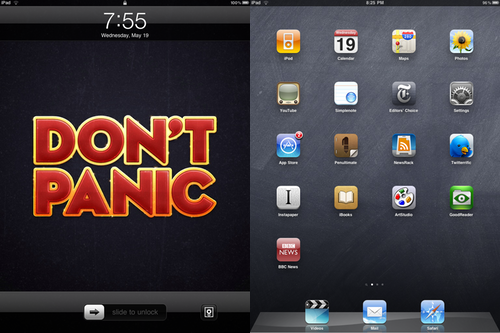 I've noticed that, despite the [69 million reviews](http://www.google.com/search?client=safari&rls=en&q=ipad+review&ie=UTF-8&oe=UTF-8) already out there, anyone who gets hold of one feels the need to write about his initial thoughts on the device. Ick! Such self-absorbed twats!
Anyway, my initial thoughts on the device:
* It's been great for reading a variety of things on. I've been plowing through articles on Instapaper, PDFs on GoodReader, and books on iBooks.
* Other apps – NewsRack for RSS, Twitterrific for Twitter, SimpleNote for note-taking, ArtStudio for finger-painting, NYT and BBC for news, PenUltimate for quick sketches. So far so good. All these apps are very distracting when I want to settle down and read, though. (Multitasking in OS 4 will probably destroy my attention span for good.)
* GoodReader could do with an icon that doesn't remind me of the eye of Sauron.
* Hasn't replaced my laptop yet. However, doesn't burn my lap when watching videos in bed. (To convert, erm, non-iTunes TV and movie content, I bought [iFlicks](http://www.iflicksapp.com/), which converts videos into iTunes-compatible formats, downloads cover art and fills in episode info.)
* One complaint, I guess – the iPad's screen could do with greater pixel density. I keep noticing jaggies while reading text.
Summary: love it. As Stephen Fry wrote in his [giddy TIME review](http://www.time.com/time/business/article/0,8599,1976935,00.html), the iPad is truly the closest thing to the Hitchhikers' Guide to the Galaxy humankind has devised. Douglas Adams would have been proud.
(Wallpaper from talented Apple designer [Louie Mantia](http://mantia.me/wallpaper).)